Physical Therapy
 CBD Joint & Scar Chief Herbal Pain Relief. 72 Hour Alchemic Crystal Infusion of Herbs: 
Ingredients:
CBD Oil, Helichrysum Oil, Marjoram Oil, Tumeric Root Oil, Thyme Oil, Marshmallow Root Oil, Hawthorn Oil, St. Johns Wort Oil, Argan Butter, Jojoba Butter, Pumpkin Seed Butter, Almond Butter, Calendula Butter, Horsetail Butter, Black Seed Oil, Macadamia Butter, Avocado Butter, Essential Oil of Lime, Mandarin, Ylang Ylang, Ginger, Vitamin E Oil, Petigrain Oil, Grapeseed Oil, Cherry Seed Oil, Hazelnut Oil, Peach Seed Oil, Apricot Oil.
Intent: Arthritis, Sprains, Aches & Pains. Relieves Joint Pain & Inflammation. Massage daily in the am & pm. Scars will fade naturally. Pain will be eased.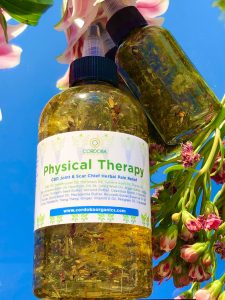 Personally, Ive endured many physical injuries. Every day  I wake and practice my daily 90 minutes of yoga, and during each session I am reminded why I wake to do so. 
From Double Open Knee surgery, and most recently a bone removal from my right foot which occurred 3 months ago. Ive had broken toes, fingers, dislocated patellas… and hopefully…thats it, lol… Taking care of ones joints and body is a daily meditation for us all. As a result I wanted to offer what's been aiding in my speedy recovery. Its simple time, patience and daily self awareness and care. Physical Therapy has reduced my swelling and inflammation. Its also helped heal my deep and fresh scar. As my Holiday gift to you all, please try a little Physical Therapy. Its scent and intent it's made with is simply incredible. A perfect balance based on the 72 hour Crystal Herbal infusion process it take to even begin to create. I know it will bring such relief to all our families and most importantly our joints.