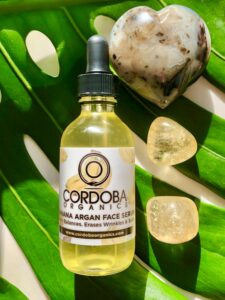 I am so excited and elated to share Banana Argan Face Serum with you all today. 
Words cant express my gratitude and love for Bananas and ALL the numerous healing affects it has on and for our skin. 
Banana has been a favorite of mine, but it started as a teeth whitener for me in college (I'd literally rub peel onto my teeth after eating one) then it became a mosquito healer, and a couple times at night I'd literally rub some into my skin during the wintertime. It's ALL about what a little dehydrator, 220 degrees & over 168 hours of infused herbs & banana can do for our scars and balancing our skin tone. Our skin deserves so much appreciation & kindness; Im just grateful beyond measure to be able to share some Banana Majic with you all. This bad boy inly comes in 2 and or 4 ounces…I take care of this oil like its liquid gold so I thought a little glass would allow unto treat this delicate treat with a little more attention and love. Enjoy. And yes, I use it ALL over my body not just my face. You'll see and fell why. Smells like faint tones of Sweet Banana…
Ingredients: 
Organic Argan Oil
Plantain Leaf
Infused Chamomile
Banana Oil
Jojoba Oil
Macadamia Oil
Directions & Intent: Replace hyaluronic acid naturally. Lightens Dark Spots Without Bleaching Agents. Heals Scars. Minimizes Wrinkles. Balances Skin. Heals Pimple Marks and Scars. Restores Dead Skin Cells. A must before retiring.