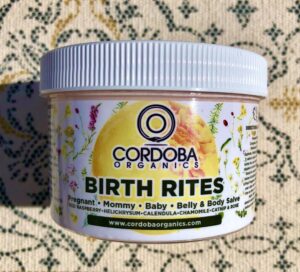 Birth Rites: Pregnant. Mommy. Baby. Belly & Body Salve Featuring Red Raspberry. Helichrysum. Calendula. Chamomile. Catnip & Rose.
Ingredients:
Organic Argan Butter
Organic Calendula Butter
Organic Lavender Butter & Oil
Organic Avocado Butter
Organic Cherry Seed Butter
Organic Ylang Ylang Oil
Organic Hungarian Rose Oil
Organic Pumpkin Seed Butter
Organic Jojoba Butter
Organic Macadamia Butter
Organic Chamomile Butter
Organic Almond Butter
Organic Helichrysum & Catnip Oil
Directions & Intent: Pregnant? Had a baby? Congrats and Welcome to motherhood. This Velvet, Euphoric, Relaxing Body & Belly salve is what I wish I made when I was pregnant. The delicate herbal concoction will help alleviate nausea and itchiness from your skins elasticity. Its also amazing for relaxation and better for your belly and skin. Rub nipples in circular motions daily. Its totally safe to use everywhere and in-between everything (sensitive parts down below). Safe as well as Calming for the baby and for you.  A Pregnancy & Post Pregnancy staple. Rub all over clean skin daily and nightly. Use as often as needed day or night. Birth Rites will prevent & heal stretch marks and get you prepared before & after for a wonderful journey. Enjoy!