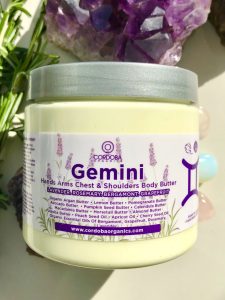 Gemini
Hands Arms Chest & Shoulders Body Butter Featuring:
Lavender, Rosemary, Bergamont. Grapefruit, Lime,  Ametrine, Apophyllite, & Golden Calcite
Ingredients:
Organic Argan Butter
Lemon Butter
Pomegranate Butter
Avocado Butter
Pumpkin Seed Butter
Calendula Butter
Macadamia Butter
Horsetail Butter
Almond Butter
Jojoba Butter
Peach Seed Oil
Apricot Oil
Cherry Seed Oil
Organic Essential Oils Of Bergamont, Grapefruit, Rosemary,  Lavender
*Intent: A must for Geminis & ALL who aim to heal Heals Upper Respiratory Issues and ALL Communication. Grapefruit and Lime BOTH also aid in promoting chest and vocal chakra energy WHILE moisturizing with this Calming yet intoxicating after shower treat. Great for Hands & Elbow Joints. Relieves Shoulder Stress, Tight Chest and Lungs while moisturizing with over 12 healing butters & Herbs. Safe for babies. A must for teens and adults.
*Apply to entire body  from head to toe paying special attention to your shoulders and chest. Apply in a circular motion after showering in the am & pm. Use as often as needed. Enjoy!