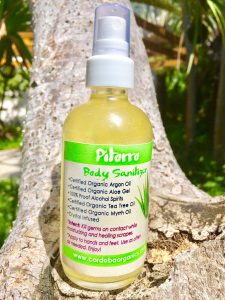 Pitorro
A moisturizing way to hydrate and keep your skin feeling clean throughout the day. 
Have you ever been running out and about and needed a quick way to clean your hands, arms and possibly other body parts that may be dirtied due  the muck and grime in any urban or inner city. Pitorro gets rid of germs and dull energy quick. Made with Organic Essential oil Of Tea Tree, Cinnamon, Myrrh, Aloe Gel and Argon Oil this simple little power combo makes this sanitizer moisturizing and definitely inviting. Throw it in your purse and use during the day when you need a quick pick me up. Also a Great aftershave! Spread me everywhere. Infused with Tourmaline, Tigers eye and Onyx, and Hematite.
Ingredients
Certified Organic Aloe Gel
Certified Organic Argan Oil
100% Proof Alcohol Spirits
Certified Organic Tea Tree Oil
Certified Organic Lemon Oil
Certified Organic Cinnamon
* Intent: Kill germs on contact while moisturizing and healing scrapes.
*Apply to hands and arms. Use as often as needed. Enjoy!