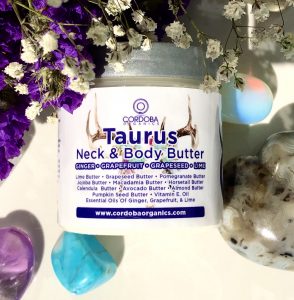 Taurus Neck & Body Butter
Made With Ginger, Grapefruit, Grapeseed & Lime. Crystal Infused With Aventurine, Lapis Lazuli & Rose Quartz.
**Let's Protect and Heal Our  Throats, Thyroids, Tonsils &  Lymph Nodes Today with some AhhMAZING Smelling Healing Neck & Body Butter**
It's Officially Taurus Season! Much Love to all My Fellow Earth Signs whom adore a little Organization, House Thangs, Music Food & and Love. Of course Luxury doesn't equate to how much we have yet when to comes to quality there is nothing we can't and don't appreciate and hopefully value. Taurus is an earth sign represented by the bull: Taurus is ruled by Venus, the enchanting planet that governs love, beauty, and money. Taurus's Venusian influence make this earth sign one of the most sensual of the zodiac: These cosmic oxen are enchanted by any physical manifestation of comfort and luxury. As a result what better way to Heal our Lymph Nodes, open and balance or throat chakra, ground and stimulate ALL by creating the perfect neck and body butter for us to enjoy. Its so intoxicating, like most of anything essentially balanced. The Essential oil and herbal balance is ridiculous. Enjoy.  
Ingredients:
Lime Butter
Grapeseed Butter *
Pomegranate Butter *
Jojoba Butter *
Macadamia Butter
Horsetail Butter
Calendula  Butter *
Avocado Butter *
Almond Butter *
Pumpkin Seed Butter *
Vitamin E. Oil *
Essential Oils Of Ginger, Grapefruit, & Lime
Directions & Intent : A must for Taureans & those with Neck, Throat, Lymphatic Blockages & Irregularities. This body butter will tightens & moisturizes skin on & around one's Neck & Body.
Our Throat & Necks are often skipped when moisturizing. End loose, dry, scaly throat skin by rubbing this euphoric calming velvet texture butter on your neck and body every am & pm.