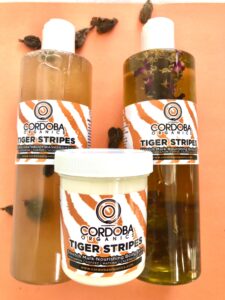 Tiger Stripes: Sekhmet Set.
Receive All  THREE Products with this purchase!!
Wanna know what the Cardamom Experience Feels and looks like? Receive the Salve, The Oil, And the Wash with this purchase to find out why.
For the full list of benefits and ingredients for each product please visit each product on its stand out page.
To sum it up, Cardamom is simply incredible. Here are some of the reasons as to why making it a staple in our skin & haircare routine is gonna feel and look so good.
Cardamom has MANY benefits when it comes to healing our skin (fading blemishes & scars) and growing out our hair. Cardamom even though known as culinary spice to most also has been used for centuries when it comes to bringing out the best in our skin and hair. It Purifies blood, thus prevents skin allergies and impacts a natural glow:
Cardamom has a high quantity of Vitamin C, thus provides antioxidants and helps in purifying the blood. It also regulates the blood circulation of the body. It has antiseptic and antibacterial properties that prevents allergies. Cardamom is considered very beneficial in making hair shiny. Cardamom contains potassium, calcium, iron, magnesium and phosphorus. It really promotes hair growth. So please feel free to dive into the Cardamom experience today.