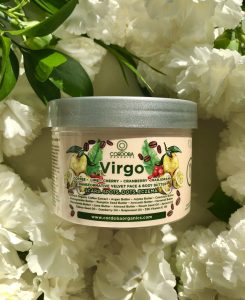 Virgo
 Transformative Velvet Face & Body Butter A Must For Scars. Spots. Dots. Eczema.  
Coffee* Lime* Cherry*Cranberry* Marjoram  
  Transformative Velvet Face & Body Butter
      Scars. Spots. Dots. Eczema.  
Ingredients:
Refined Organic Coffee Extract
Argan Butter
Jojoba Butter
Calendula Butter, 
Pomegranate Butter
Pumpkin Seed Butter
Avocado Butter
Horsetail Butter
Macadamia Butter
Lime Butter
Almond Butter
Peach Seed Oil
Apricot Oil
Cherry Seed Oil
Cranberry Oil
Grapeseed Oil
32K Vitamin E.Oil
Virgos need extra love for our intestinal health as as our mind & skin (wealth)… Virgo Body Butter takes care of all that and then some. Enjoy. 
Ingredients:
Directions & Intent: Cranberry Aids In Digestion. Coffee, Cherry & Lime Aid in Cellular Rejuvenation. This unique combination is not only the perfect blend for Virgo's but for all that are looking to refine their overall skin tone. Heals keloids, scars & dark eye circles, while calming any irritable skin symptoms like rashes & eczema. Use daily on your face & body as often as needed. Rub all over your bawdie from toes to crown. Safe for babies and addictive for adults. A Euphoric Velveteen experience.