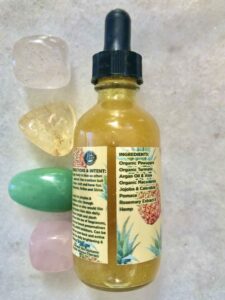 Pineapple Turmeric Gel Toner: 
Brighten. Heal. Refine 
Finally, a Gel Toner that has just the right amount of Pineapple & Tumeric in it. For those irregular dark spot, keloid darkening circles around your scars and scars spots leftover from annoying pimples and irritants, your skin's overall texture will be sure to find its own balance using this Gel Toner. It's got a crisp like pear/lime scent that has no perfume or fragrances that won't irritate in the most sensitive areas. Most products today have melanin inhibitors in them which bleach your skin and destroy your melanin's ability to produce and refine your skin which in a very short time will eventually lead to destroying the dermis and increase aging and vacant melanin spots. Let's stop this today; with the use of this Gel Toner your skin will heal and become more radiant in as little as 6 weeks.
Ingredients:
Organic Pineapple
Organic Turmeric 
Argan Oil & Aloe 
Organic Macadamia
Jojoba & Calendula Oil
Directions & Intent. 
Apply Daily to face as often as needed. Use a cotton ball or clean cloth and have fun. Moisturize, Refine and Shine. A must for pimples & sensitive skin. 
Formulated with Tumeric & Pineapple. A Natural Scar & Pimple Healer.
A must for kids, adults, teens & hormonal, broken out, dry and sensitive skin.  
Brightens & Tightens Without Chemicals
Dampen clean face and hands with warm water in the morning and night.
Apply Pineapple Turmeric Alchemy Cleanser into your hands and lather into your face and or bady. 
A must for anyone going through breakouts or who would like to brighten their skin daily. Remain bright and plush without the use of fragrances, chemical based preservatives & MELANIN Inhibitors. Can be used on your back and entire body for daily brightening & Refining.