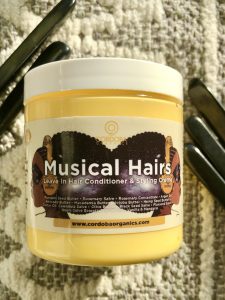 Musical Hairs 
Ingredients: 
Pumpkin Seed Butter,
Rosemary Salve,
Rosemary Concentrate,
Argan Oil,
Avocado Butter,
Macadamia Butter,
Jojoba Butter,
Hemp Seed Butter,
Castor Oil,
Calendula Salve,
Olive Butter,
Black Seed Salve,
Flaxseed Salve,
Neem Salve,
Essential Oil Of Lime, Vanilla & Mandarin.
We wash our hair listening to music (I know I do) As we braid our kids hair and or our own we are usually listening to our favorite tunes. Musical Hairs is amazing herbal leave in hair conditioner and styling creme for combination hair types that require highly emollient and absorbable properties. Not only good for our roots but also for the entire strand and shaft. Leaving no residue to break out ones face and skin we need stuff thats really think and rich. I wanted to offer what I have been blessed to make and use for  years. Its not often you get the opportunity to combine things that truly allow your spirit to shine. Music and Art combine like a fine glass wine. So sit back, and enjoy. Musical Hairs can be used everyday on wet or dry hair. Made for the entire family.  Art work originally seen on the cover of The Dark Skull 418. An image made I'm my likeness I recently had the joy of reading.  I had to thank the creator, Aseer The Duke Of Tiers for such a powerful image that continues to inspire us all.