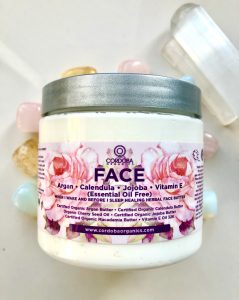 FACE
                  Argan. Calendula. Jojoba. Vitamin E.   
Essential Oil Free (For Really Sensitive Skin that needs Hydration) 
   When I Wake And Before I Sleep Healing Herbal Face Butter 
 After listening to many who have really sensitive skin as well as children with nut allergies etc; & after much meditation and research Im grateful to be able to share my latest and greatest FACE butter made for those of us who need a little extra TLC before retiring and upon waking in the am. This is a daily  MUST for newborns, babies, and  faces of all ages. None of us are getting any younger yet with a little wisdom and and the right ingredients our cells don't have to become depleted in ways that we've been convinced they can. FACE will reduce wrinkles, fine lines and inflammation in ways I cant explain. You'll just have to feel how lightweight and amazing FACE really is on your face.                            
Ingredients
Certified Organic Argan Butter
Certified Organic Calendula Butter
Organic Cherry Seed Oil
Certified Organic Jojoba Butter
Certified Organic Macadamia Butter
Vitamin E Oil 32K 
Intent: Intensified Herbal Face Relief. A must when you wake, and before retiring. Use daily for best results. A must for sensitive skin. 
*Apply to sensitive dry spots around eyes and nose and all those beautiful parts in between. A must for ones face and neck. Remember to wash your hands and face before applying. An after shower & bath delight. Use as often as needed on your face. Great for kids and newborns!