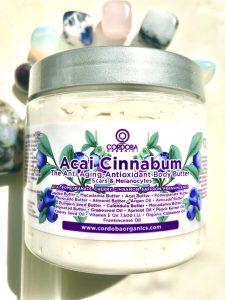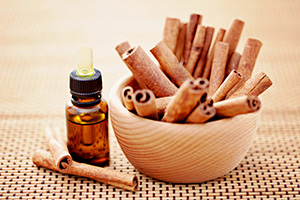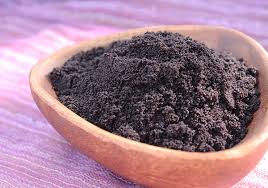 Acai Cinnabum The Anti Age Antioxidant Body Balm
The Antioxidant Skin Booster. Made with Organic Acai, Essential oil of Cinnamon & Argan Butter.
There simply isn't enough room to describe all the amazing and wonderful benefits you skin will receive form using our Acai Butter. Acai holds the most anti aging benefits for your skin.
Our Acai Butter Cinnabum Balm was created out of the desire to spread the benefits of natures antioxidants into our skin daily. If you suffer from tired, dry, or flaky skin PLEASE try our Acai Butter Cinnabum Balm. The Organic Argon Oil and Vitamin E offers our skin the best in free radicals. Your pores and skin will feel the difference.  Made with Organic Essential Oil Of Cinnamon and Bergamont.  Infused with Onyx, Sardonyx, and Adventurine, Jade and Amethyst. Offer your skin the best and forget the rest. 
Ingredients
Certified Organic Jojoba Butter
Certified Organic Macadamia Butter
Certified Organic Acai Butter
Certified Organic Pomegranate Butter
Certified Organic Avocado Butter
Certified Organic Almond Butter
Certified Organic Argon Oil
Certified Organic Avocado Butter
Certified Organic Pumpkin Seed Butter
Certified Organic Calendula Butter
Certified Organic Macadamia Butter
Certified Organic Horsetail Butter
G.M.O. Free Vitamin E Oil 7,500 I.U.
Certified Organic Cinnamon Oil
*Intent: Promotes Joint Circulation, Stimulates Cell Renewal, Gets rid of Stretch Marks. Anti Inflammatory.
*Apply to body with love in the am and pm. Use as often as needed.