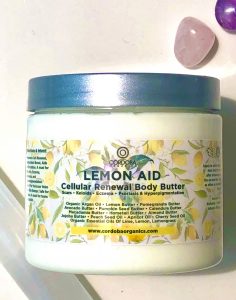 Lemon Aid 
                                 Cellular Renewal Body Butter
            Scars* Keloids* Eczema* Psoriasis & Hyperpigmentation  
                                              Lemon Aid 
                                 Cellular Renewal Body Butter
            Scars* Keloids* Eczema* Psoriasis & Hyperpigmentation  
Ingredients: 
Organic Argan Oil
Lemon Butter
Pomegranate Butter
Avocado Butter 
Pumpkin Seed Butter
Calendula Butter
Macadamia Butter
Horsetail Butter
Almond Butter
Jojoba Butter
Peach Seed Oil
Apricot Oil
Cherry Seed Oil
Organic Essential Oils Of Lime, Lemon, Lemongrass
*Intent: Promotes Cell Renewal, Antioxidant Boost, Aids in Circulation. A must for Dry skin, Eczema, Psoriasis, and Hyperpigmentation. Great For Varicose Veins and Skin Bumps. Safe for babies. A must for teens and adults. 
*Apply to entire body  from head to toe after showering in the am and pm. Use as often as needed. Enjoy!