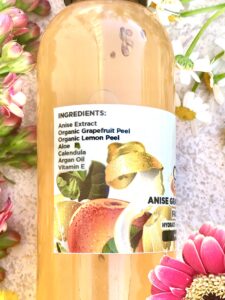 Anise Grapefruit & Lemon Elixir
       Face & Neck Toner
Hydrate•Balance•Restore•Protect
Remove Blemishes and Dark Spots Naturally. 
The natural quinine (toxin remover) for the face. 
Spray bottles sizes available in 2oz.  
Ingredients: Anise Extract. Organic Grapefruit Peel. Organic Lemon
Peel. Aloe. Calendula. Argan Oil. Vitamin E.
Directions & Intent: Apply to clean face & neck everyday as often as
needed. Reduces Scars & Blemishes. Rids Breakouts & Pimples. Heals &
Hydrates. Air Dry. Apply With Cotton Ball and or spray on face.