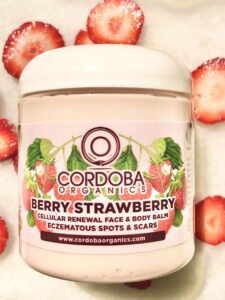 Berry Strawberry: Cellular Renewal Face & Body Balm
Eczematous Spots & Scars
Featuring Strawberry. Cranberry. Red Raspberry 
Im super honored and grateful to have made it this far with you all. Berry Strawberry is finally made. Don't think I haven't wanted to make fruit scented products, because these recipes have been on my mind for such a long time but to learning how to distill and extract Strawberry (the scent).. I must confess it took me a while to figure this one out without any fake fragrances, perfumes or artificial fruit scents. Its just amazing to touch, and feel, it melts yet is dense based on the herbs used to create a gelatinous feel once applied, and the healing benefits for dermatitis, Eczema, keloids and really just packed with nutrients that smooth wrinkles, and aging in general. Im truly so grateful to be able to share and am so in love with the Peachade, The Berry Blueberry and this delectable one, Berry Strawberry. Enjoy its healing benefits (great for the wintertime) and for our kids. They truly will fall in love with the scent and texture as much as we have. 
Ingredients: Essential Oil Of Strawberry & Lime. Lime Butter. Strawberry Butter. Red Raspberry Oil. Comfrey Oil. Jojoba Butter. Macadamia Butter. Almond Butter. Argan Butter. Avocado Butter. Calendula Butter. Pumpkin Seed Butter. Cranberry Seed Oil. Vitamin E. Hazelnut Butter. 
Directions & Intent: Use as often as needed. Apply on clean skin. Rub and enjoy this Vitamin A, C & D Enriched Herbal Infused Euphoric, Perfume Free Body Balm. A must for aging skin, scars and eczematous dry spots.