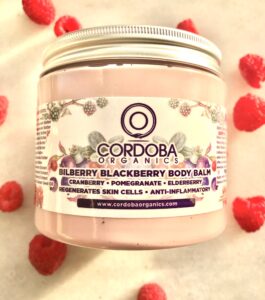 Bilberry Blackberry Body Balm
Cranberry. Pomegranate. Blueberry. Elderberry
Regenerates Skin Cells• Anti Inflammatory
 **Fade Scars Without Destroying and Or Bleaching Your Melanin**
Ingredients:
Bilberry Root.
Black Currant Butter.
Pomegranate Butter. Cranberry Butter.
Calendula Butter.
Avocado Butter.
Horsetail Butter.
Jojoba Butter.
Macadamia Butter.
Argan Butter.
Blueberry Extract.
Blackberry Extract.
Elderberry Extract.
Black Currant Seed Oil. 
Directions & Intent:
Have Scars? Remove them daily by applying this Vitamin C enriched collagen producing salve into your body as often as desired everyday and night. Apply onto clean skin. Reduces Inflammation.