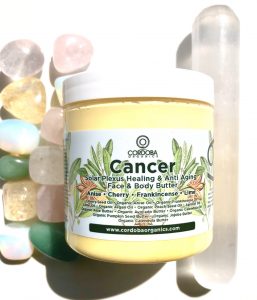 CANCER
Solar Plexus Healing & Anti Aging Face & Body Butter
               Anise. Cherry. Frankincense. Lime. 
Ingredients:
Cherry Seed Oil
Organic Anise Oil
Organic Frankincense Oil
Lime Oil
Organic Argan Oil
Organic Peach Seed Oil
Apricot Oil
Organic Aloe Butter
Organic Avocado Butter
Organic Calendula Oil
Organic Pumpkin Seed Butter
Organic Jojoba Butter
Organic Calendula Butter
Organic Pomegranate Butter
Organic Macadamia Butter
Organic Horsetail Butter
Organic Almond Butter
Grapeseed Oil
Shoutouts to The Fabulous Sign Of Cancer…I had to celebrate this stellar sign wit gusto. With a Mars In Cancer and a Virgo Sun My Stomach intunes everything. We need constant balance and yumminess all around. Anise Oil really works wonders and alleviates so many ailments dealing with digestion I had to offer everyone this huge treat for our skin and hair.  Even and especially if you are NOT a Cancer you'll fall in love with the intent made applying Cancer to our skin. Enjoy. 
Intent: Anise removes Wrinkles While Strengthening  Solar Plexus Energy. Alleviate Stomach Bloating While reducing facial wrinkles daily. This AMAZING face & Solar Plexus Body Butter heals depression, bloating, uneasy stomach energy. We all need a little Herbal Face and Solar Plexus Relief. A must when you wake, and before retiring. Use daily for best results. A must for any cancer Placements, sensitive intuitives & aging skin. Safe for babies. A Must for teens & adults. 
*Apply to sensitive dry spots and all those beautiful parts in between. A must for stomach, face and back.  An after shower delight. Use as often as needed on your face.