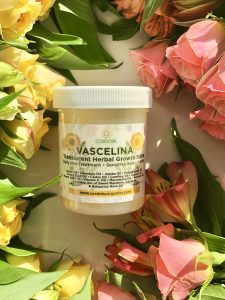 VASCELINA
               Translucent Herbal Growth Salve 
      Daily Hair Treatment. Sensitive Skin. Babies.   
Ingredients:
Argan Oil,
Calendula Oil,
Jojoba Oil,
Pomegranate Oil,
Cherry Seed Oil,
Castor Oil,
Comfrey Oil,
Apricot Oil,
Peach Seed Oil,
Vitamin E. Oil,
Macadamia Oil,
Avocado Oil,
Essential Oils of Sweet Mandarin, Gardenia and Hungarian Rose Oil. 
Herbal Gooey Goodness
Intent: Treats Damaged Edges, Diaper Rash, Limp Curls, Locs, Braids, Frizz, Eczema, Psoriasis, Dry Skin, Rough Elbows & Knees and any body part that may need a little extra daily T.L.C. Heals dry skin and hair instantly. A must for babies.
Ever wish you could find an herbal mineral free, alcohol free version of some our favorite memories of what our parents use to smear on our skin and hair back in the day? Search no more. This new dish is my favorite new concoction. Im super honored to share with you all. It took months to create the perfect moisturizing, yet gel like consistency that lasts and lasts without any residue or CHEMICALS. Great for a plethora of healing reasons. Made with Calendula, Geranium, Rose Seed Hip Oil, Avocado, Organic Aloe Vera, Macadamia, Jojoba etc…
Diaper Rash
Alopecia
Baby Hairs
Lips
Elbows
Knees
A Gel Replacement for your Hair
Eczema
Bumps and Rashes
New Tattoos