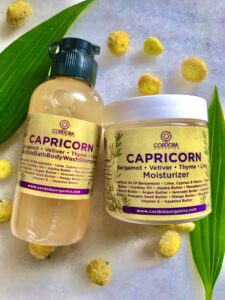 Want To Try Both Products At Once?
Receive BOTH: The Capricorn BubbleBathBodyWash AND The Capricorn Body Moisturizer (Salve) With This Purchase.
Remember every Astrology Product is UNISEX and can be used by EVERY sign. You do not have to be a Capricorn to enjoy and or need the benefits Of Capricorn
Featuring: Bergamot, Vetiver & Thyme (For The Full Herbal Benefit and Ingredient List please visit Capricorn's here on the site . I totally don't want to bore you here again). 
Combined Makes for the most incredible Natural Stress and Tension reliever. The 9* Herbs Used alone create for a Skin Experience AND Chillout Creme. Used daily it will help to alleviate headaches and mood swings. A must for kids that need help relaxing and focusing.