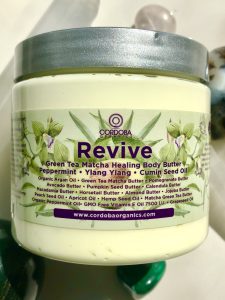 "Revive" Organic Matcha Green Tea Body Lotion. Infused With Aventurine, Jade, Ylang Ylang, Argan & Peppermint. Relaxes Muscles & Joints.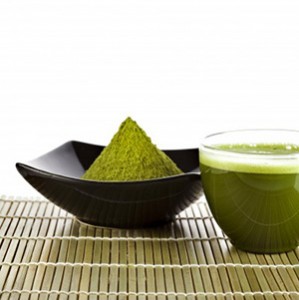 "Revive"
An Organic Matcha Green Tea Body Salve. Relaxes Musles & Joints. Heals your Skin from Within.
Have you ever wished you had the perfect after shower body lotion. Well……this is it for us. Revive was created for folks who walk a lot, run errunds all day, work, and basically who are always on the go. Even if your not a mom, dad or an athlete training; Revive will do just that for your skin, mind and body. Infused with a  perfect blend of mint and ylang ylang this peppermint power packed lotion heals your skin's cells while relaxing your overworked muscles.  Made with Green Tea Matcha Butter, Organic Argon Oil, Avocado Butter, Organic Shea and Aloe Butter & Oil of Peppermint. Crystal Infused with Rose Quartz, Adventurine, Jade, Smokey Quartz and Tourmaline.
Ingredients
Organic Matcha Green Tea Butter
Certified Organic Argan Oil
Certified Organic Lemon Butter
Certified Organic Pomegranate Butter
Certified Organic Avocado Butter
Certified Organic Pumpkin Seed Butter
Certified Organic Calendula Butter
Certified Organic Macadamia Butter
Certified Organic Horsetail Butter
Certified Organic Almond Butter
Matcha Green Tea Butter
Peach Kernel Oil
Cherry Oil
Apricot Oil
Certified Organic Essential oil of Ylang Ylang
 Certified Organic Peppermint Oil
GMO Free Vitamin E Oil 7500 I.U.
*Intent: Promotes Joint Circulation, Stimulates Cell Renewal, Gets rid of Stretch Marks with daily use. After sun body quencher. Great For Circulatory energy in your Legs and Feet. Helps Varicose Vein Blood Supply.
*Apply to body with love in the am and pm. Use as often as needed. Enjoy!