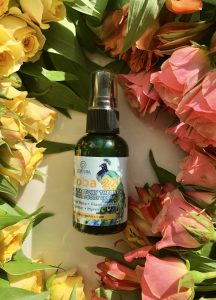 Cordoba 22: Euphoric Olfactory Therapy. A Unisex Organic Body Spray Made With Pyrite, Turkish Rose, Frankincense, Bergamont & Myrrh
Ingredients:
Pyrite
Turkish Rose
Frankincense
Bergamot & Myrrh
Intent & Directions: A Euphoric Olfactory scent for BOTH Men & Women. Anoint Yourself With NO FRAGRANCE OR PERFUME. A Smell Good All Over; All Day Experience. Anoint & Protect Yourself from Earth to Crown & All Around.
It's one of those scents that everyone says "YOU SMELL AH–MAZING" when you enter a room. I made this to replace perfume and we've been wearing it since 2000. Spray  it EVERYWHERE, All Day and lighten your mood and others right away. Im really So Glad to to be able to finally share this one with everyone.