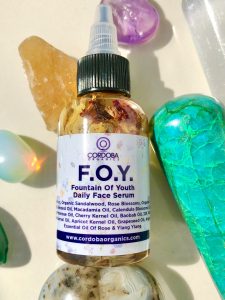 Heal. Restore. Moisturize. 7th Year Anniversary of The Rose & Calendula Infused Face Serum
F.O.Y. otherwise known as "Fountain Of Youth" is a unique and very restorative Organic Face and Neck Serum. It is made with Organic Saffron, Calendula, Baobab, Hungarian Rose Oil, Jojoba, Argan, Macadamia, Avocado, Evening Primrose Oil & Vitamin E. Great for cell repair, even skin tone, scars & pimples. Truly Ancient Skin Alchemy at it's finest. 3-5 drops a day keeps frown lines, wrinkles and unevenness away. (Were creating new words… unevenness). Vegan. Organic. No Gmo's. No parabens.
Ingredients:
Organic Saffron,
Organic Sandalwood,
Rose Blossoms,
Organic Jojoba Oil,
Avocado Oil,
Almond Oil,
Macadamia Oil,
Calendula Blossoms,
Calendula Oil,
Evening Primrose Oil,
Cherry Kernel Oil,
Rasberry Oil,
32K Vitamin E,
Peach Kernel Oil,
Apricot Kernel Oil,
Grapeseed Oil,
 Argan Oil,
Essential Oil Of Rose & Ylang Ylang.