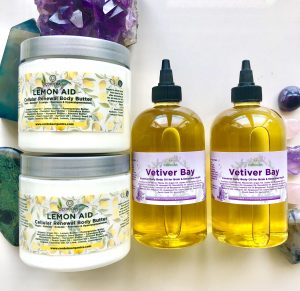 A Match Made In Reality: Vetiver Bay & Lemon Aid
What better way to uplift ones energy both mentally, and spiritually with these TWO amazing healing products. After reading so many heartfelt emails. Wanted to offer everyone BOTH Vetiver Bay and Lemon Aid together. Each contains essential oil combinations proven to aid in depression and anxiety these healing butters, balms and oils are the least I can offer to contribute to an ever-changing and evolving society. We all deserve a little love to ground us, so enjoy, and thank you for all of your support. Lemon Aid's ingredients (over 13 in each) product can be found right here on this website. Please take second to take a gander if need be. BELOW ARE VETIVERS INGREDIENTS. Love, Celina Cordoba El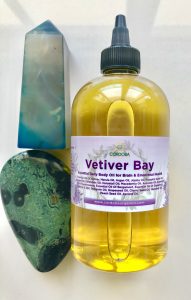 Ingredients: 
Essential Oil Of Vetiver,
Marula Oil,
Argan Oil,
Jojoba Oil,
Pumpkin Seed Oil,
Almond Oil,
Calendula Oil,
Horsetail Oil,
Macadamia Oil,
Avocado Oil,
Essential Oil of Vetiver,
Essential Oil Of Bergamont,
Essential Oil Of Grapefruit,
Vitamin E 32K,
Petigrain Oil,
Grapeseed Oil,
Cherry Seed Oil,
Hazelnut Oil,
Peach Seed Oil,
Apricot Oil.
Intent & Directions:
For Anxious, Overworked, Shy, Depressed, Heavy Hearted, Insomnia, ADHD, Stabilizes Mood, Balances Cortices. Great for Kids Peace of Mind. Ideal for headaches & heartaches. Apply Daily. Rub in a Circular motion from head to toe.