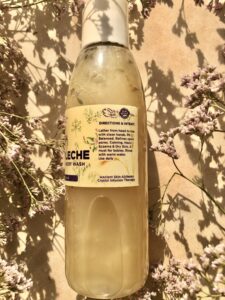 Indulge in the soothing embrace of Lavender Leche, the ultimate solution for your sensitive skin and body needs. Crafted with a harmonious blend of Lavender and Organic Oats, this Herbal Infused Face & Body Wash is a gentle oasis for your skin.
With ingredients like Saponified Oils of Jojoba, Argan, Rosemary Extract, Olive Pomace, Organic Aloe Vera, Grapeseed Oil, Evening Primrose Oil, and Infused Chamomile, Lavender Leche offers a luxurious, natural cleansing experience.
Lavender Leche's pH-balanced formula refines open pores, leaving your skin feeling refreshed and rejuvenated. It's a calming elixir that helps heal eczema and dry skin, making it a must-have for both adults and babies alike.
Simply lather from head to toe with clean hands, rinse with warm water, and use daily to pamper your skin. Elevate your self-care routine with Lavender Leche and discover the gentle, calming power of nature for your sensitive skin and body needs.
Here's a list of the key ingredients in Lavender Leche Herbal Infused Face & Body Wash:
Lavender
Organic Oats
Saponified Oils of:

Jojoba
Argan
Rosemary Extract
Olive Pomace
Organic Aloe Vera
Grapeseed Oil
Evening Primrose Oil
Infused Chamomile
These natural ingredients combine to create a gentle and soothing skincare experience, perfect for those with sensitive skin.