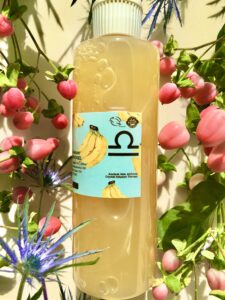 Libra Venusian  BubbleBathBodyWash ShampooGel:
Alleviates Wrinkles, Loose Skin & Hyperpigmentation. Infused Banana. Vanilla. Helichrysum. Frankincense. Argan 8+ Healing Herbs
Ingredients:
Organic Infused Banana
Flaxseed
Saponified Oils Of Coconut
Jojoba Oil
Olive Pomace
Aloe Vera
Grapeseed Oil
Helichrysum
Macadamia Oil
Avocado Oil
Calendula Oil
Almond Oil
Cherry Seed Oil
Pomegranate Oil
Vanilla Oil
Vitamin E. Oil 32K
Essential Oil of Frankincense
Directions & Intent :
Banana & Flaxseed not only removes wrinkles while fading scars, pimple spots naturally but your ENTIRE body from head to toe can benefit from this wrinkle removing, euphoric Body Wash experience. Just a little everyday  goes a long way. Lather this sudsy intoxicating bubble bath body wash shampoo with warm water in a cloth, or loofah. Great for bubble baths. Promotes Hair growth. Alleviates Stress. A must for Libras and folks who have big hearts that can appreciate a little protection. Relieves Dry Cracked skin, Leg Muscles, Scars and Dry Thinning Hair. Use daily as often as needed. Safe for babies. A must for teens and adults.