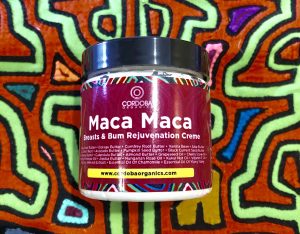 Maca Maca: An Herbal Breast And Bum Rejuvenation Creme 
Made With 22+ Organic Herbs:
Maca Root Butter, Borage Butter, Comfrey Root Butter, Vanilla Bean, St. John's Wort, Avocado Butter, Pumpkin Seed Butter, Black Current Seed Butter, Macadamia Butter, Calendula Butter, Almond Butter,  Grapeseed Oil, Cherry Stone Oil, Evening Primrose Oil, Jojoba Butter, Hungarian Rose Oil, Kukui Nut Oil, Aloe Butter, Vitamin E Oil. Organic Almond Extract, Essential Oil Of Chamomile, Essential Oil Of Ylang Ylang.  
Directions & Intent: 22 Organic Herbs which naturally heal, hydrate and stimulate breast and bum development. Massage in a clockwise motion all over your breasts, belly, thighs and bum 32 times to the right and 32 times to the left. Apply after each shower and especially before retiring. Can be used all over one's body, yet made especially for your tender spots.
Made for women of all ages. A great after workout treat.  A must POST breastfeeding. Not intended for male usage.