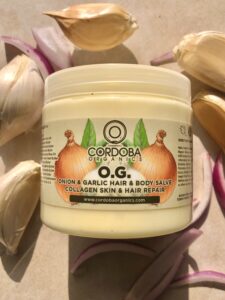 Discover the secret to radiant skin and luscious hair with our O.G. (Onion & Garlic) Hair & Body Salve – your all-in-one solution for collagen production and overall wellness!
Ingredients:
Garlic Oil
Organic Red Onion Oil
Organic Argan Butter
Organic Calendula Butter
Organic Avocado Butter
Organic Hungarian Rose Oil
Organic Pumpkin Seed Butter
Organic Jojoba Butter
Organic Macadamia Butter
Organic Chamomile Butter
Organic Almond Butter
Essential oils of Frankincense, Myrrh, and Lemon
Directions & Intent: Say hello to Herbal Collagen Repair with our versatile salve. Simply apply to your face and body to experience a multitude of benefits:
Hair Growth: Nourish your locks for stronger, shinier hair.
Joint Repair: Promote joint health and vitality.
Inflammation Reduction: Soothe and calm inflammation, including conditions like Gout.
Skin Healing: Combat skin woes such as Eczema, Rosacea, Psoriasis, Dry Skin, Scars, Keloids, and more.
Foot Fungus Relief: Treat and heal foot fungus, restoring healthy, happy feet.
Pore Refinement: Minimize open pores for a smoother complexion.
Embrace the power of nature's healing ingredients and use our O.G. Salve as often as needed to revitalize your skin and promote collagen production for a radiant, healthy glow from head to toe. Your journey to a more vibrant you starts here!