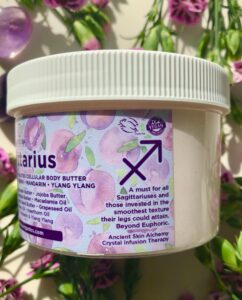 Sagittarius 
    Antioxidant Legs Hips & Glutes Cellular Body Butter
     Elderberry. Maqui. Hawthorn. Ylang Ylang. Mandarin & Lime 
Ingredients:
Argan Butter.
Pomegranate Butter.
Jojoba Butter.
Cherry Seed Oil.
Calendula Butter.
Macadamia Oil.
Horsetail Butter.
Pumpkin Seed Butter.
Grapeseed Oil.
Elderberry Oil.
Maqui Oil.
Hawthorn Oil.
Essential Oils Of Ylang Ylang Mandarin  & Lime. 
Directions & Intent:
An Organic Elderberry Maqui Herbal Infused Body Butter Designed to reduce cellulite, improve circulation, rid varicose veins, scars, gout, and arthritis. A moisturizing Antioxidant heaven for EVERYONE'S legs, thighs, glutes and ENTIRE BODY. Apply daily every am & pm to clean limbs. A must for all Sagittariuses and those invested in the smoothest texture their legs could attain. Beyond Euphoric.