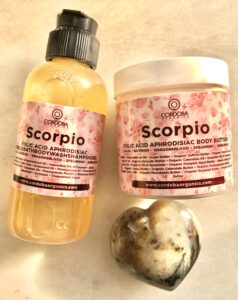 Want To Try Both Products At Once?
Receive BOTH: The Scorpio BubbleBathBodyWash AND The Scorpio Body Salve With This Purchase.
Remember every Astrology Product is UNISEX and can be used by EVERY sign. You do not have to be a Scorpio to enjoy the benefits of Scorpio.
Key Features:
Protects 
Uplifts
Heals Eczema
Relieves Headaches & Migraines
Alleviates Arthritic Pain, Increases Libido & Circulation.
It Smells Like Roses Made Love to A Sweet Peppermint Candy Cane Soaked In Spearmint Chocolate Myrrh. The Dragonsblood gives the sweet scent depth that can only be described as "Oh my goodness its like Something I Cant Describe but its Amazing". Truly one of our best sellers so I wanted to offer everyone both products at once. Enjoy.
For Full Details about each product feel feee to visit the individual product page with full ingredient and intent details listed for each one.