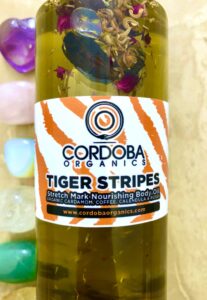 Tiger Stripes
Stretch Mark Nourishing Body (& Hair) Oil 
Organic Cardamom. Coffee. Calendula & Roses
Why Cardamon for our skin and hair? Cardamon has MANY benefits when it comes to healing our skin (fading blemishes & scars) and growing out our hair. Cardamon even though known as culinary spice to most also has been used for centuries when it comes to bringing out the best in our skin and hair. It Purifies blood, thus prevents skin allergies and impacts a natural glow:
Cardamom has a high quantity of Vitamin C, thus provides antioxidants and helps in purifying the blood. It also regulates the blood circulation of the body. It has antiseptic and antibacterial properties that prevents allergies. Cardamom is considered very beneficial in making hair shiny. Cardamom contains potassium, calcium, iron, magnesium and phosphorus. It promotes hair growth. 
Ingredients:
Organic Argan Oil
Organic Peach Seed Oil
Organic Avocado Oil
Organic Calendula Oil & Flowers
Organic Cherry Seed Oil
Organic Cardamom Oil & Pods
Organic Geranium Oil
Organic Hungarian Rose Oil
Organic Lavender & Lime & Spearmint Oil
 Organic Pumpkin Seed Oil
Organic Jojoba Oil
 Organic Macadamia Oil
 Organic Almond Oil
Organic Red Raspberry & Marjoram Oil 
Directions & Intent: Tightens skin while growing out your hair. Great for Varicose Veins & stimulating new cells while tightening loose skin. Fades scars and keloids. Post Cellulite & Weight Loss. Rub all over clean skin after showering & exercising . Use as often as needed day or night. 3 month promise.