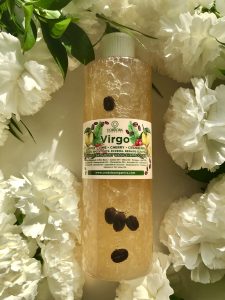 Virgo Bubble Bath Body Wash Shampoo Gel
Coffee* Lime* Cherry* Cranberry  
Scars. Spots. Dots. Eczema. Repairs Elastin.  
***Intestinal Health. Mental Skin Wealth***
Ingredients:  Fresh Marjoram, Coffee Bean, Jojoba Oil, Olive Oil Pomace, Aloe Vera, Grapeseed Oil, Pomegranate Oil, Macadamia Oil, Avocado Oil, Calendula Oil, Peach Seed Oil, Almond Oil, Saponified Coconut, Cranberry Oil, Vitamin E. Oil, Lime Oil
Directions & Intent: Marjoram, Cranberry & Coffee aids in Digestion. Lime aids in antioxidant cellular renewal while removing wrinkles and tightening skin. Lather this sudsy intoxicating thick gel bubble bath body wash shampoo with warm water in a cloth, or loofah. Great for bubble baths & showers. Promotes Hair growth. Alleviates cramps. A must for Virgos and EVERY sign.  This delicate combination aids in strengthening intuition while softening and hydrating. Heals unbalanced skin tone. Use daily as often as needed. Safe for babies, potent enough for adults. A Euphoric Experience.