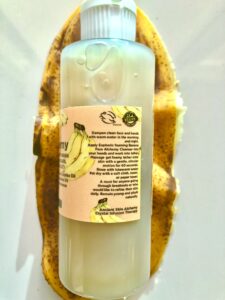 Banana Face Alchemy 
Replace Hyaluronic Acid Naturally. A Daily Sensitive Moisturizing Herbal Face Wash Heals. Balances. Erases Wrinkles & Scars. Evens All Skin Tones
Ingredients:
Organic Flaxseed Aloe & Banana.
Organic Argan Oil.
Organic Jojoba Oil.
Olive Pomace.
Organic Aloe Vera Gel.
Organic Macadamia Oil.
Organic Almond Oil.
Argan Oil
Essential Oil of Frankincense.
Grapeseed Oil. 
Organic Coconut & Hemp.  
Infused Banana Oil  
Gently lifts away impurities, dirt, toxins and daily grime 
Deeply cleanses skin without stripping. 
removes dark spots. pimple scars and wrinkles. 
Help skin look and feel instantly refreshed, and revitalized
Formulated with Banana Flaxseed Blend. A Natural Hyaluronic Acid replacer.
 Calendula Olive Pomace yields for this amazing hydrating gel like experience.  
For Normal, Sensitive, Combination and Oily broken out skin
Frankincense For wrinkles and Closed pores. not to mention soft, supple skin everyday. 
Dampen clean face and hands with warm water in the morning and night.
Apply Euphoric foaming Banana Face Alchemy Cleanser into your hands and work into lather
Massage gel foamy lather onto skin with a gentle, circular motion for 60 seconds.
Rinse with lukewarm water
Pat dry with a soft cloth, towel, or paper towel.  
A must for anyone going through breakouts or who would like to refine their skin daily. Remain young and plush naturally.