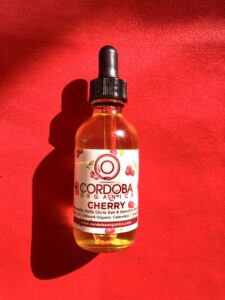 Cherry Restorative Eye & Face Oil ( Clear Sifted image to show clarity and Depth Of Color). **Each Bottle comes with handpicked Organic Calendula Blossoms Inside**
Why Cherry Oil? Thats exactly what I wondered during this entire eye awakening process. No pun Intended. Cherries are incredible to consume for so many antioxidant reasons but when you actually apply some to your face…just watch what amazing results are going to occur. It's so rich in vitamins A,B,C & D…yup in that exact order, lol. You know how many times people have been told " there genetic circles that run in your family"…that may be so but it doesn't have to remain that way. A simple influx of goodness like Vitamin Enriched Antioxidant herbal infused Cherry Oil will do the trick. 4-6weeks is all its going to take to see all its benefits. From eyelash growth, to lightening dark circles around your eyes; Cherry is so very berry essential. 
Eyelash Growth. Puffy Circle Eye & Sensitive Face Serum 
Ingredients:
100% Organic Cherry Oil.
Infused Organic Calendula.
Organic Argan Oil.  
*Directions & Intent: Grows Eyelashes. Balances Melanin Around Eyes.  Lightens "dark genetic" Circles. Reduces Eye Wrinkles. Restores & Hydrates Sensitive Irritated Skin. Heals Eczema & Sensitive Dry Eyes. 
*A must when waking & before retiring. Apply with clean Fingertips on your face and around your eyes in a circular motion for at least 30-60 seconds. Use as often as needed but especially after washing your face in the am and pm.