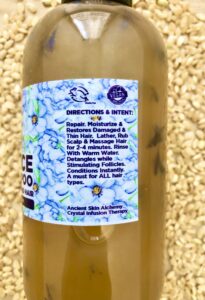 Blue Rice Hair Shampoo
Growth Repair Enriched Haircare
It took 6 months to perfect a couple "Rice Recipes" I could truly be proud of, and Im just super elated to share these Blue Rice Hair Care Products with you all under this March's New Moon. If you have had a chance to try the Hairspray you already Know why it was so important for me to create the Blue Rice Hair Shampoo as well as the Blue Rice Growth Hair Pudding. If interested in receiving all 3 at the same time feel free to purchase the Blue Rice Bundle Kit that has all 3 available in one fail swoop. The Blue Rice Products Are infused with Fermented (Non Smelly) Rice Oil along with certain ingredients, all listed below… that boost growth. Based on the Vitamins its enricing your hair with you'll start to not a certain manageability and detangled energy that helps when coming out your hair as well as with maintaining its health. Each and every time you use some your mood will lighten and your hair will just fell amazing after. Dontas be supposed when you start to witness growth and thickness occur. It really does help with hair growth and manageability. Enjoy. And thank you for your patience and support.
Ingredients:
Infused Blue Rice H2O Oil, Rice Pomace, Organic Blue Spirulina, Blue Tansy Oil, Saponified Oils Of Coconut, Jojoba Oil, Olive Pomace, Aloe Vera, Grapeseed Oil, Pomegranate Oil, Macadamia Oil, Clove Oil, Avocado Pomace, Rosemary Extract, Ylang Ylang, Lemon Oil, Hungarian Rose Oil.
Directions & Intent:
Repair. Moisturize & Restores Damaged & Thin Hair.  Lather, Rub Scalp & Massage Hair for 2-4 minutes. Rinse With Warm Water. Detangles while Stimulating Follicles.  Conditions Instantly. A must for ALL hair types.