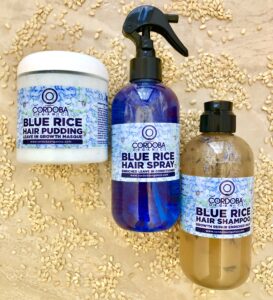 If you have tried the Blue Rice Hairspray, THANK YOU SO MUCH! You all totally inspired me to focus on RICE infused hair products that DON'T smell rice, minty or herbal in any way. We all love the Hair Majic and Rosemary's Baby but I thought "How nice would it be if I could infuse Monoi as well as rice oil (Amazing for hair growth and conditioner) and create a couple gems for those that may be looking for a very fragrant yet non minty smell for their daily haircare. Y'all already know how addicting the Conditioning Hairspray is, so just wait until you crack open the Shampoo or Blue Rice Hair Masque… Its like nothing you've smelled before yet very reminiscent of your most memorable scents from you're childhood (strange but true).
The Blue Rice Hair Pudding  Leave In Growth Masque & Shampoo is a win for those who may want to thicken and grow their hair. The combination of the  organic brown rice, herbs & Blue Tansy & Blue Rice Oil are great to increase gloss and manageability. The proof  is always better feeling than telling so let's just say, the proof is most definitely "In The Pudding.
Available in 8oz sizes only. Why? No trigger sprayers in small sizes. The only reason this gift set can't be offered in smaller sizes.