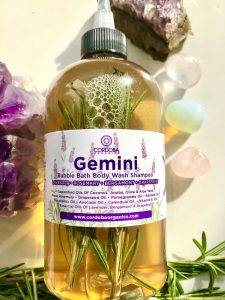 Gemini
Bubble Bath Body Wash Shampoo
Lavender. Rosemary. Bergamont. Grapefruit, Lime, Ametrine, Apophyllite, & Golden Calcite.
Ingredients:
Saponified Oils Of Coconut,
Jojoba,
Olive Oil,
Aloe Vera,
Fresh Rosemary,
Grapeseed Oil,
Pomegranate Oil,
Macadamia Oil,
Avocado Oil,
Calendula Oil,
Almond Oil,
Vitamin E. Oil,
Essential Oils Of Lavender,
Bergamont & Grapefruit & Lime
Directions & Intent : Lather this sudsy intoxicating bubble bath body wash shampoo with warm water in a cloth, or loofah. Great for bubblebaths. Promotes Hair growth and relaxation while moisturizing ones scalp. A must for Geminis and shoulder stress. Relieves Lung Blockages, Tight Chest Muscles, Asthma, and Thinning Hair. Use daily as often as needed. Safe for babies.