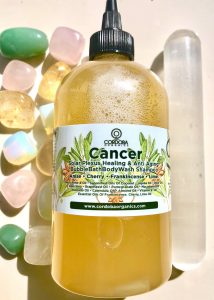 Cancer
Solar Plexus Healing & Anti Aging BubbleBathBodyWash Shampoo
                      Anise. Cherry. Frankincense. Lime.
Ingredients:
Fresh Anise & Oil
Saponified Oils Of Coconut
Jojoba Oil
Olive Oil
Aloe Vera
Grapeseed Oil
Pomegranate Oil
Macadamia Oil
Avocado Oil
Calendula Oil
Almond Oil
Vitamin E. Oil
Essential Oils Of Frankincense
Cherry & Lime Oil.
Shoutouts to The Fabulous Sign Of Cancer…I had to celebrate this stellar sign wit gusto. With a Mars In Cancer and a Virgo Sun My Stomach intunes everything. We need constant balance and yumminess all around. Anise Oil really works wonders and alleviates so many ailments dealing with digestion I had to offer everyone this huge treat for our skin and hair.  Even and especially if you are NOT a Cancer you'll fall in love with the intent made applying Cancer to our skin. Enjoy. 
Directions & Intent : Anise removes Wrinkles While Strengthening  Solar Plexus Energy. Just a little everyday  goes a long way. Lather this sudsy intoxicating bubble bath body wash shampoo with warm water in a cloth, or loofah. Great for bubble baths. Promotes Hair growth. Alleviates Stress. A must for Cancers and empaths. Relieves Mental Blockages, Tight Leg Muscles, Bloating, and Dry Thinning Hair. Use daily as often as needed. Safe for babies.