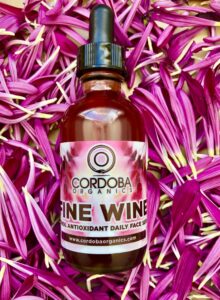 Fine Wine
Retinol Antioxidant Daily Face Serum
In Honor of my 45th Birthday this September 22nd. The last 7 years Ive had this very healthy Obsession with everything Sandalwood, Saffron, Cherry, Pomegranate and Hibiscus; I wanted to create a Herbal Infused Retinol Face Serum we could all enjoy the benefits of. It's not often you find any products truly made with Sandalwood and Saffron; 2 of the most valued herbs anyone could use to maintain healthy skin. We all age, that's the great things about life; so why not incorporate specific herbs and ingredients that will help us all during these transitions? Im just super humbled and grateful to be able to share Fine Wine with you all. Great for overworked, dry, sensitive skin that needs a little extra TLC at the ending start of each day. This miraculous serum will heal your skin while making sure larger pores become minimized and refining scars, pimples and breakouts resulting in tone imbalance. We all deserve to age like Fine Wine.
Ingredients: Organic Hibiscus, Organic Sandalwood Oil, Saffron Oil, Argan Oil, Jojoba Oil, Calendula Oil, Avocado Oil, Almond Oil, Pomegranate Seed Oil, Vitamin E. Oil, Apricot Seed Oil, Cherry Oil, Peach Seed Oil, Grapeseed Oil, Hungarian Rose Oil, Chamomile Oil, Organic Lavender.

Directions & Intent: Anti Aging Healing Serum. Apply Daily & Nightly. Rub in a circular motion on face AND body to restore cellular growth. Heals Eczema, Rosacea, Psoriasis, Dry Skin, Scars, Keloids & more. Brightens skin tone while erasing pimples & reducing wrinkles. Refines open pores. Daily UVA protection.  A must for teens & gracefully aging skin.