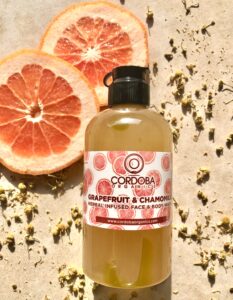 Indulge in the rejuvenating power of our Chamomile, Grapefruit, and Argan Infused Gel-Based Body Wash Shampoo, a truly healing and refreshing experience for your body and soul.
Key Ingredients:
Saponified Oils of Jojoba and Argan
Rosemary Extract and Olive Pomace
Organic Aloe Vera and Grapeseed Oil
Evening Primrose Oil and Infused Chamomile
Macadamia Oil and Avocado Oil
Calendula Oil
Essential Oils of Grapefruit and Lime
Directions & Intent: Embrace the goodness that this gel-based body wash shampoo offers:
Lather up from head to toe with clean hands for a luxurious cleanse.
Enjoy the benefits of a perfectly pH-balanced formula that harmonizes with your skin's needs.
Witness the magic as it refines open pores, leaving your skin smoother and more radiant.
Experience the healing touch on conditions like Eczema, Dry Skin, and breakouts.
Rinse with warm water and make this a daily ritual to revitalize your skin.
Elevate your daily shower routine with our invigorating blend of Chamomile, Grapefruit, and Argan-infused gel-based body wash shampoo. Let it soothe, heal, and refresh, leaving you feeling great inside and out. Your path to healthier, glowing skin starts here, and it's just a shower away!