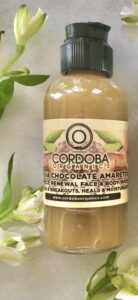 Mocha Chocolate Amaretto
Licorice Renewal Face & Body Wash ** Eliminates Pimples & Breakouts**. Heals & Moisturizes
Ive been really excited to share this new and amazing face and body wash with you all. Not only does it smell good enough to eat with its deep chocolate and vanilla tones, but it's also great when were having irritable skin issues like simple common breakouts, pimples and irritation. Licorice holds amazing healing benefits for healing and soothing ones pimples and skin. Combined with the Calendula and Infused Anise your skin will yield all the benefits from this herbal infused licorice chocolate face and body wash. Chocolate benefits are just instantaneous. Cocoa ensures a high zinc content which heals. The function of flavonoids is to prevent skin damage, boost collagen production and boost cell health.  It's just simply therapeutic, moisturizing, cleansing yet soft. Incredible, especially for teens going through puberty like my 13 year old son. PH balanced and extremely safe for kids, babies and sensitive, private parts.
Ingredients:
Organic Licorice. Hemp Pomace.Cocoa Pomace. Argan Pomace. Saponified Coconut. Rosemary Extract. Calendula Extract. Cinnamon. Anise. Dark Cocoa Powder. Grapeseed Oil.
Directions & Intent:
Reduces Fine Lines & Wrinkles. Stimulates Circulation. Reduces Inflammation.
Apply this gel wash to the entire body daily and nightly. Heals Scars. Balances Skin
Tone. Euphoria in a jar.