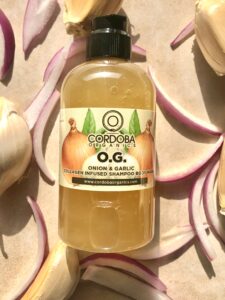 Introducing O.G. Onion & Garlic Growth Shampoo – Your Ultimate Hair Care Solution and Anti-Inflammatory Body Wash in One!
Ingredients: Our unique formula combines the power of nature's finest ingredients:
Saponified Oils of Jojoba, Argan, Grapeseed, Evening Primrose, Macadamia, and Avocado
Rosemary Extract and Olive Pomace
Organic Aloe Vera and Calendula Oil
Infused Chamomile, Nettle, Red Onion, and Garlic Oil
Flaxseed and Organic Slippery Elm
Directions & Intent: Experience the transformational benefits with every wash:
Lather up and indulge in a luxurious massage for your hair and scalp.
Witness the magic as it thickens and restores dry, brittle hair to its former glory.
Say goodbye to pesky headaches while enjoying the soothing relief it brings.
Bid farewell to dandruff troubles as your scalp finds its balance.
Restore your hair's natural shine and vitality while healing alopecia concerns.
Rinse with warm water and repeat weekly for optimal results.
Unveil the secret to healthier, stronger, and shinier hair with the O.G. Onion & Garlic Growth Shampoo and pamper your body with its anti-inflammatory properties. Elevate your hair and skin care routine to a new level of natural goodness.