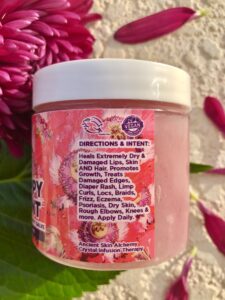 Red Poppy Ointment
Translucent Hair+Body Specialty Salve
Imagine finding a salve that you literally can use everywhere and that actually helps promote hair growth and soft skin? Red Poppy Seed Oil is truly a treat we've all been kept from. Full with antioxidants as well as all the basics nature provides. This Argan, Pomegranate, Gogi berry Goo will become a family favorite like it has for us. 
Ingredients: Red Poppy Seed Oil, Calendula Pomace, Pomegranate Oil, Gogi Berry Oil, Hibiscus Oil, Grapeseed Oil, Argan Oil, Jojoba Oil, Vitamin E, Comfrey Oil, Peach Seed Oil, Essential Oil Of Ylang Ylang & Tangerine.
Directions & Intent: Heals Extremely Dry & Damaged Lips, Skin AND Hair. Promotes Growth, Treats Damaged Edges, Diaper Rash, Limp Curls, Locs, Braids, Frizz, Eczema, Psoriasis, Dry Skin, Rough Elbows, Knees & more. Apply Daily.