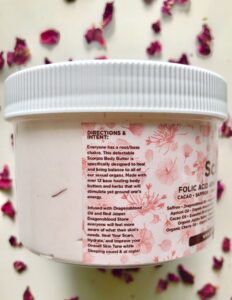 Scorpio    
        Folic Acid Aphrodisiac  Body Butter
Cacao. Saffron. Dragonsblood. Spearmint. Geranium
A Sacral Root Chakra Healer That Enhances Love. A Must For Winter Dry Skin. Eczema & Scars.
Ingredients:
Saffron
Dragonsblood Oil
Argan Butter
Organic Saffron Butter
Organic Peach Seed Oil
Apricot Oil
Organic Avocado Butter
Organic Calendula Oil
Essential Oil Of Geranium
Cacao Oil
Essential Oil of Spearmint
Organic Pumpkin Seed Butter
Sweet Almond Oil
Organic Jojoba Butter
Organic Calendula Butter
Organic Pomegranate Butter
Organic Cherry Oil
Organic Macadamia Butter
Organic Horsetail Butter
Organic Almond Butter
Grapeseed Oil
Directions & Intent: Everyone has a root/base chakra. This delectable
Scorpio Body Butter is specifically designed to heal and bring balance
to all of our sexual organs. Made with over 12 base healing body
butters and herbs that will stimulate yet ground one's energy. Infused
with Dragonsblood Oil and Red Jasper Dragonsblood Stone everyone will
feel more aware of what their skin's needs. Heal Your Scars, Hydrate,
and Improve your Overall Skin Tone while Sleeping sound & at night?!
This Euphoric, Delicate yet Potent Aphrodisiac Body Butter is exactly
what everyone's skin needs & deserves. A lot of Vitamin B & C and
extra TLC.