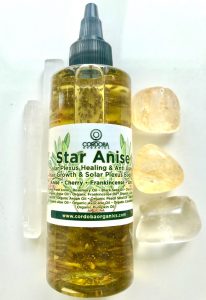 Star Anise
      Hair Growth & Solar Plexus Body Oil
       Anise. Cherry. Frankincense. Lime. 
For Those of Us who May Have sensitive bellies and are very intuitive. We ALL need a little something to calm mental & our Solar Plexus Energy… this is it. The Crown Chakra is also where we intuit lots of mental stimuli, so what could be better than a Body AND Hair Oil that will heal our spirits while keeping our hair shining and  skin healed & sealed at the same time. A Head To Toe Rubdown That Smells almost as good as it feels. Enjoy. Love, Celina 
 Ingredients:
Organic Fresh Anise
Rosemary Oil
Black Seed Oil
Cherry Seed Oil
Organic Anise Oil
Organic Frankincense Oil
Organic Castor Oil
Lime Oil
Organic Argan Oil
Organic Peach Seed Oil
Apricot Oil
Organic Aloe Oil
Organic Avocado Oil
Organic Calendula Oil
Organic Pumpkin Oil
Organic Jojoba Oil
Organic Calendula Oil
Organic Pomegranate Oil
Organic Macadamia Oil
Organic Horsetail Oil
 Organic Almond Oil
 Grapeseed Oil
Intent: Anise removes Wrinkles While promoting daily Hair Growth. Strengthen Solar Plexus Energy. Reduce facial wrinkles. This AMAZING Hair & Solar Plexus Body Body Oil heals depression, bloating, and dry brittle hair.  A must when you wake, and before retiring. Use daily on body and hair for best results. A must for aging skin,, sensitive bellies and hair growth. Safe for babies. A Must for teens & adults. 
*Apply daily & promote hair growth. Great for ALL hair types, sensitive dry skin and all those beautiful parts in between. A must for one's hair, stomach, face and back.  An after shower delight. Use as often as needed everywhere everyday.