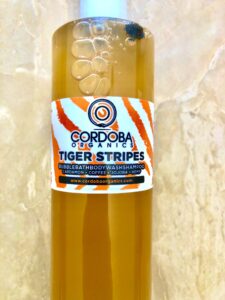 Tiger Stripes 
BubbleBathBodyWashShampoo 
Featuring: Cardamom. Coffee. Jojoba & Hemp 
Why Cardamom for our skin and hair? Cardamom has MANY benefits when it comes to healing our skin (fading blemishes & scars) and growing out our hair. Cardamom even though known as culinary spice to most also has been used for centuries when it comes to bringing out the best in our skin and hair. It Purifies blood, thus prevents skin allergies and impacts a natural glow:
Cardamom has a high quantity of Vitamin C, thus provides antioxidants and helps in purifying the blood. It also regulates the blood circulation of the body. It has antiseptic and antibacterial properties that prevents allergies. Cardamom is considered very beneficial in making hair shiny. Cardamom contains potassium, calcium, iron, magnesium and phosphorus. It promotes hair growth. 
Saponified Oils Of  Jojoba Oil
Essential Oil of Spearmint, Peppermint & Rose.
Infused Cardamom Hemp & Coffee 
Directions & Intent: Fade Stretch Marks. Moisturize, Clean & protect  your pores by using this herbal infused organic body shaving gel. Warm Hands. Lather & gently Apply suds everywhere. Ph balanced for private parts.