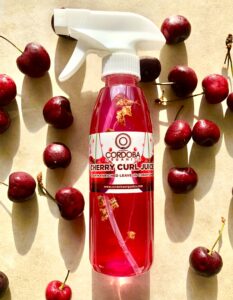 Introducing Cherry Curl Juice our 8oz. Vitamin C Face & Hair Growth Spray, a powerful blend of natural ingredients designed to enhance your beauty routine:
Ingredients: Infused with the goodness of Cranberry and Elderberry, enriched with nourishing:
Pomegranate, Cherry, Jojoba, Hemp Seed, and Argan oils, along with the soothing properties of Aloe Vera and Rooibos Tea. This spray is further infused with the invigorating scents of Organic Orange & Lemon Peel, Lemon, and Lime essential oils.
Directions & Intent:
Face Toner: Revitalize your skin with a refreshing spritz, promoting a radiant complexion.
Acne Solution: Effectively heals pimples and reduces breakouts for clearer, smoother skin.
Hair Growth: Stimulate follicles and promote hair growth while moisturizing and restoring damaged and thinning hair.
Hair Care: Effortlessly detangle and condition your hair, leaving it soft, manageable, and instantly revitalized.
Versatile: Suitable for all hair types, this spray is a must-have in your haircare routine.
Anti-Aging: Great for aging skin, it nourishes and rejuvenates for a more youthful appearance.
Experience the benefits of Vitamin C and these natural ingredients in one convenient spray for your face and hair needs.