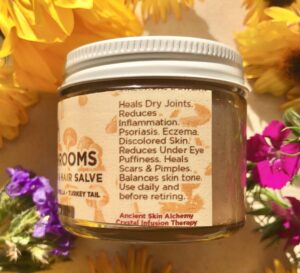 Concentrated Form: AVAILABLE IN GLASS JAR ONLY. Clear Herbal (Light Brown) Concentrated Salve.
Experience the transformative power of Marigold Mushroom Face & Body Cellular Salve, a restorative elixir that your skin and hair crave! Packed with a botanical symphony of Marigold Mushrooms, including Reishi, Chaga, Cordyceps, Shiitake, Tremella, and Turkey Tail, this CLEAR salve is a natural wonder.
Nourish your skin and stimulate collagen production with a divine blend of Organic Argan Oil, Avocado Oil, Jojoba Oil, Castor Pomace, Chamomile Oil, Pumpkin Seed Oil, Apricot Oil, Evening Primrose Oil, Infused Chamomile, Macadamia Oil, Calendula Oil, Reishi Oil, Chaga Oil, Cordyceps Oil, Shiitake Oil, Tremella Oil, Turkey Tail Oil, and Almond Oil, enriched with the invigorating essence of Grapefruit, Frankincense, and Lime essential oils.
Embrace the healing touch of this salve as it soothes dry joints, reduces inflammation, and helps manage conditions like psoriasis, eczema, and discolored skin. Say goodbye to under-eye puffiness, scars, and pesky pimples while achieving a harmonious balance of your skin tone.
For best results, apply daily, both in the morning and before retiring, and let the magic of Marigold Mushroom Face & Body Cellular Salve unveil the radiant, revitalized you. Your skin and hair deserve this restorative, rejuvenating experience.