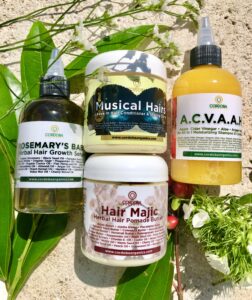 Finally, A Little Package Made just for ALL your haircare necessities. . Receive ALL 4 products and begin your hair growth journey today.
Receive: Musical Hairs, A.C.V.A.A.H, Rosemary's Baby & Hair Majic all in one swoop. 
Over 65 Herbs, Butters, and Restorative Oils In the entire package! 
Feel Free to visit each products page FULL Description if you wanna get to know a little MORE about these gems.