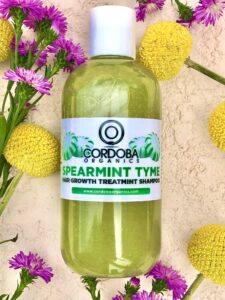 Spearmint Tyme
Hair Growth TreatMint Shampoo
Tyme is misspelled on purpose not only to catch your eye but to also highlight and play with the word 'TYME" which expresses what herbal hair TIME it is. Our favorite shampoo hands down. Amoor says he wants to drink it and or eat it every time he steps into the shower. Not only will the herbal combination promote daily hair growth but it will also stimulate new follicle and scalp health. I tried my best to make the label look like what it smells like because it truly smells like spearmint candy & was pure joy making it as well. The Burdock Root along with the scentless fenugreek and Saw Palmetto were the 3 basic herbs I made sure to combine in this herbal concotion that is just so essential for optimum growth. Hope you enjoy the set as much as we do. Its something I use everyday in combination with the Hair Majic and Rosemary's Baby.
Ingredients:
Organic Spearmint
Rosemary Extract
Fenugreek Oil
Burdock Root
Saw Palmetto
Aloe Vera Pomace
Hemp Pomace
Organic Flaxseed Oil
Organic Jojoba Pomace
Neem Oil
Red Thyme Oil
Grapeseed Oil
Directions & Intent:
Do not drink. Squeeze  into your hair and have a blast cleansing. A must for all hair types and styles. Great for daily use and for setting your hair at night. Therapeutic & Euphoric. 3 month hair growth promise.