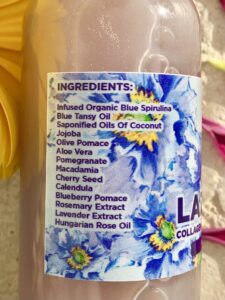 Lazuli Blue
Collagen AHA+BHA Tansy Gel Face Wash
It Looks Lavender in Color but that's because there's its lavender infused and it has NO micas or coloring agents in it. This amazing healing aloe gel based face wash is moisturizing and healing for all skin types. But especially skin like mine "aging skin" and that's okay, because we are all getting older. Im just invested in offering as many healing options for us to continue to age naturally and gracefully. Im sure you've heard of AHA's & BHA's. Alpha Hydroxy Acids and Beta Hydroxy Acids is another way of saying sugary fruit extractions from water-soluble  acids. This face wash was made with such time because I wanted to make a natural version of this for all of us to enjoy the benefits of. 
Ingredients:
Infused Organic Blue Spirulina, Blue Tansy Oil, Saponified Oils Of Coconut, Jojoba,
Olive Pomace, Aloe Vera, Grapeseed Oil, Pomegranate Oil, Macadamia
Oil, Cherry Seed Oil, Calendula Oil, Blueberry Pomace, Rosemary Extract, Lavender Extract, Hungarian Rose Oil.
Directions & Intent:
Sensitive Skin Hello!! Moisturizes & Heals Pimples & Scars while promoting Collagen Production. Lather with warm water and apply daily on face AND from head to toe when needed. Restores PH & Balances uneven skin. A must for back AND face scars.